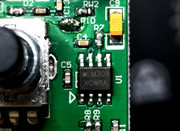 Fake LM308 in a Mooer pedal… well, not an original National Semiconductor chip anyway.
So, is it a fake if you mark a plain cheap op-amp that meets or exceeds the specs of the original LM308 with that part number but the internal circuit is not the same?
It will work in circuits designed for the LM308 and perform well. It does the job. But at the fringes and limits of the electrical characteristics where many fx pedals operate, it will not be the same as an IC with the internal circuit design of a real original NatSemi LM308. Is that a fake or just a poor substitute?